ABOUT
---
World Surf Guides is a new Web and Mobile platform developed with wave sports tourism in mind (surf, SUP, bodyboard, kitesurf, kayaksurf, skimming, among others). In this platform, users can find high quality and useful information about all the best local surf spots in the world, starting with Portugal.
This project is now presenting its first guide (Peniche) with a modern look & feel, adapted to all devices. Next, we plan to launch guides of Nazaré, Ericeira, Sintra, Lisboa, Caparica, among other spots in Portugal and all over the world!
Until next Fall we will launch new mobile apps and the first version of WorldSurfGuides.com (in this address).
Until then, you can check our web guides and monitor the project progress, registering in this website or following our facebook page.
Enjoy surfing!

Spots
All information about regional Surf Spots, locations, best conditions, etc.

Near me
What's near you: Where to eat, where to sleep, what todo, local commerce, where to go out at night and much more...

Activities
Recreational or sports activities in the region complementary to surf - Horseback riding, golf, windsurfing, paragliding, mountain biking, hiking, climbing, etc.

Heritage
All information about local heritage and other cultural offers.

Surf Forecast
Swell and Weather for the next days.

User Profile
Personal information that allows tailoring the information presented according to each user needs.
App
---
All WSG information in your smartphone or tablet.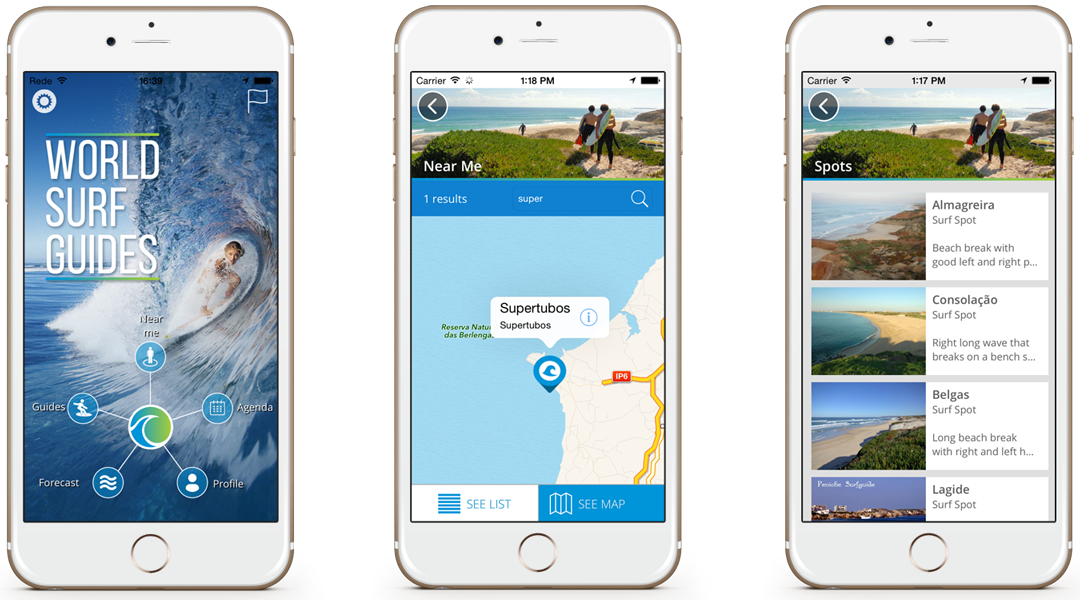 WSG (BETA) - Soon in App Stores
Near me
Surf Guides (Download for Offline access)
Agenda
Weather, Waves and Swell
Surfer Profile
CONTACTS
---
Want to say hi? Want to know more about us? Call us or leave us a message and we will get back to you soon.
ADDRESS Rua do Coronel Andrada Mendoça, nº17, 1st. floor
2500 - 148 Caldas da Rainha - Portugal
EMAIL worldsurfguides@bitcliq.com
PHONE +351 262 838 156
+351 912 690 395